We've been labeled by previous generations and these stickers have unrecognized negative implications. When we hear lazy, delusional, insincere, pampered, or even narcissistic, it not only diminishes the authentic experiences of Millennials, but creates an overarching stereotype that spreads ongoing divide.
There are clear cultural and normative distinctions between Boomers, Gen-X, and even our most recent Gen-Zers. The beauty of specific generations are their unique values and attitudes about themselves, others, and the world. Every generation receives feedback and criticism; however, it seems that Millennials are gaining a fascinating reputation.
Millennials embody particular characteristics that perpetuate internal struggle especially in a world that operates quite differently than Millennials expected. That being said, its crucial to walk through some of the positive attributes and then segue to the misconstrued experiences of Generation Y.
It is shown through research that Millennials are mindful and filled with awareness regarding health, social, economic and environmental issues. Millennials are shaking our current system and showing up as critical thinkers.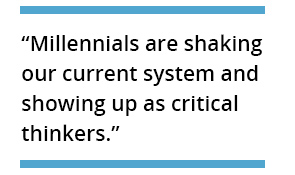 Millennials embrace balance and hold a strong desire for career flexibility and self-care. These individuals are authentic, transparent, broadminded, and exploratory. Millennials promote individualism and believe in the importance of "doing whatever makes you happy." Lastly, Millennials don't accept existing conditions because they know improvements can be made and innovation is the golden ticket.
Some of you reading will find what I've described above to be beneficial and helpful to our planet, however, there will be plenty of folks who may interpret it with a different twist. Nevertheless, the above narrative is paired with intense distress.
Millennials endure higher levels of stress, emotional discomfort, anxiety, depression, and choice-overload compared to previous generations. These researched statistics are not only misunderstood but translate into the negative labels attached to the generation. Stress is labeled as lazy, critical thinking is stamped as delusional, and self-care is marked as narcissism.
Let me be clear that there are plenty of individuals in the generation that may be in fact lazy, delusional, insincere, pampered, or even entitled, however, creating a generalization is not the solution to the genuine troubles of 18-38-year olds.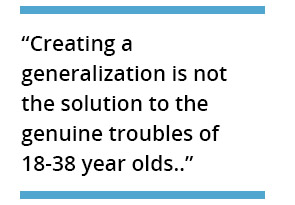 Instead we need to view these researched issues as valuable and give Millennials the skills to thrive and flourish. We need to teach Millennials how to cope with disappointment, emotional discomfort, and instill realistic expectations. These tools alone would allow Millennials to better manage stress, anxiety, and depression, and in return, show up as more productive, dynamic, and constructive individuals.
Additionally, we need to guide Millennials in finding what is important and meaningful in their lives. By promoting this type of exploration, we will help to support, enthuse, and motivate Millennials to set goals, achieve those goals, and enhance their lives.
In conclusion, I invite you to absorb this information with curiosity and surrender to some of the currently held beliefs that you may be gripping tightly. Remember that Millennials are currently the largest generation and we need them to create a future generation that blossoms. In order for this to occur, we need to support Millennials RIGHT NOW and by setting aside embedded judgment, we can begin that process.
Sources: Pew Research
Please post a comment or question below.
I would love to hear from you!